EUROFUSE Workshop
on Data and Knowledge Engineering

---

September 22-25, 2004, Warszawa, Poland


---
Conference venue
---
THE GROMADA HOTEL
The EUROFUSE Workshop will be held in the Gromada Hotel, situated in the city center, Powstańców Warszawy Square 2 (phone number: +48-22-582-99-00), near Marszałkowska, Swiętokrzyska, Nowy Swiat and Aleje Jerozolimskie Street. It is 5 minutes walk to Metro, tram or bus, 1 km from Railway Station "Centralny" and 12 km from the Warsaw Airport.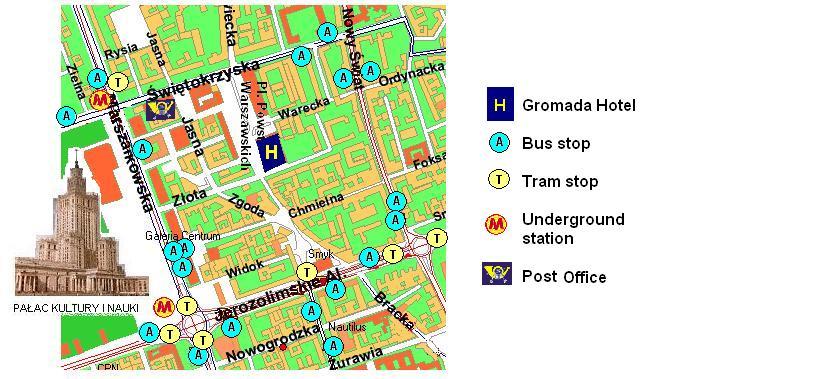 Please note that there are two Gromada hotels in Warsaw, therefore we recomend to give a taxi driver not only the name of the hotel but also its address (Powstancow Warszawy Square 2).
ACCESS TO THE INTERNET

In the Workshop Secretariat four computers with access to the internet will be available for the participants. For the guests of the Gromada Hotel internet is for free at the hotel apartments, however you need your own computer and LAN cable.

SCHEME OF CONFERENCE ROOMS

The conference sessions will take place in the conference rooms called "Malwa" and "Stokrotka", entrance from the hotel lobby.